Your work is more than just a job. My Buddies is more than just an office. Come join us!
0
sq.ft. Office Space
Enjoy spacious modern office space, conference room, kitchen and common areas while working in a bright inspiring environment.
0
Hot desks
Hot Desking is a great way to keep overhead cost down, while expanding your network by working alongside a variety of professionals. Why incur the overhead cost of leasing or buying a facility when you can leave that headache to someone else? Enjoy all of the perks with none of the hassles!
0
Private offices
There are six spacious offices available to meet your privacy needs. Whether looking for a private work area where you can meet clients, or simply a place where you can make calls, MY BUDDIES COWORKING has you covered.
Everything you need in a modern office, without the hassle of maintenance.
State-of-the-Art 269 sq. ft. conference room (Seats up to 10), Modern 245 sq. ft. open space and reception area and kitchen, Second 160 sq. ft. open space with whiteboard, Wi-Fi, Sleek and ergonomic-friendly furnishings, and more
Flexibility and 24-hour access
Can't sleep? Need to pull an "all-nighter"? No problem! MY BUDDIES COWORKING provides clients the flexibility to work any time of the day or night. Clients have 24 hours access to the co-working space seven days a week.
Use our lounge space to connect with your coworkers, or have coffee with your clients.
The lounge area is a bright open environment that is perfect for enjoying coffee and refreshments with coworkers and clients. And, there is a full size refrigerator for use when brown bagging it.
Choose from a wide range of sizes of rooms to suit your needs!
Whether you need to conduct a one-on-one interview, meet with important clients, or host a board meeting, MY BUDDIES COWORKING can meet your needs!
Dedicated software development team
Whether you need a code review, custom development, testing, or simply just to consult with a programmer, we've got you covered.
We are pet-friendly!
You no longer have to leave your companion at home to take advantage of a shared office space. With My Buddies you can bring your pet with you!
Pricing plans and options
Simple, flexible, and predictable pricing. Choose which package is best suited for you.
No long term contracts
Unless you really, really want one (discounts available).
Collaborate and Celebrate
My Buddies came together out of our own need to not only have flexibility in how we run our projects but also to be in a place where we can get together and collaborate with like-minded folks.
Co-founder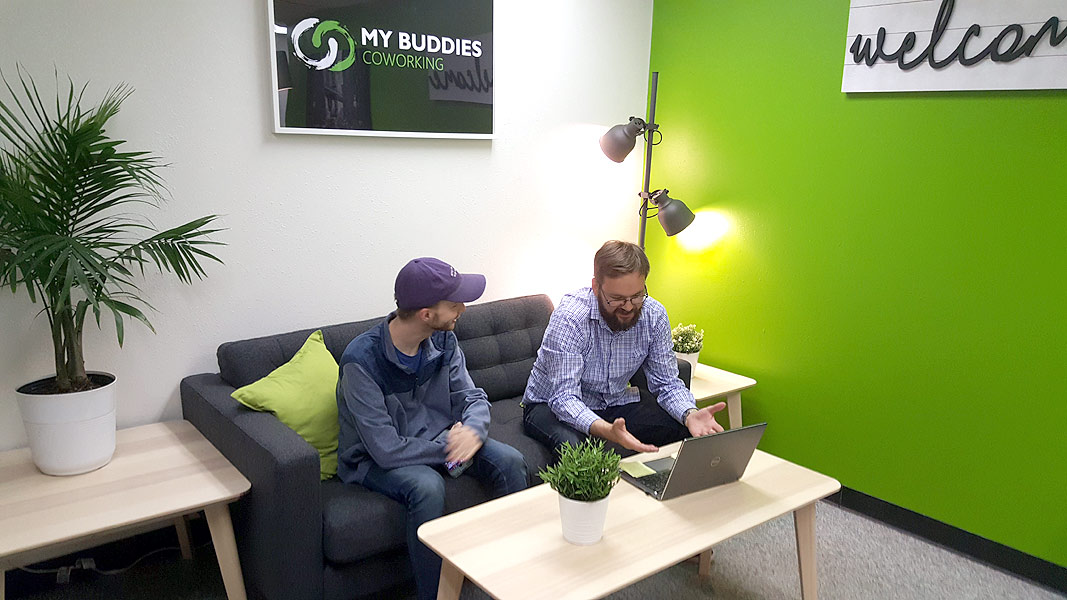 With over 40 custom built elements, LeadEngine is perfect for building your dream landing page website without any coding whatsoever.
Marketing Specialist